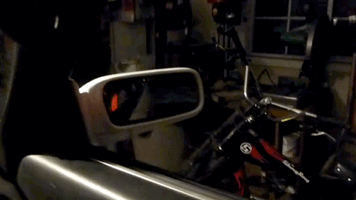 Featured Product (New):
Mirror Magic for the MKI (85-89) Toyota MR2!
Keep your power and folding functions, respect the lines of your car, and add that subtle exotic flair! Options available include LED signal-lighting (forward and backward-facing) and camera mounts. Contact us for quotes and your special requests... all automotive models welcome. See all the details, pictures, comparisons and videos in our Creations section.
Core trade-in required.
Starting from $475.00(US)/pair
On sale, starting from $399.00(US)!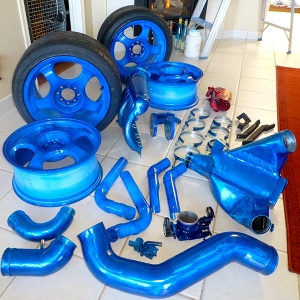 Welcome to CyKlops Custom Creations
Designed for performance, Shaped for show...
CyKlops Custom Creations accentuates design and engineering with the aesthetics of art. For unique solutions to your individual automotive goals, we optimize your performance and customize your look, including designing and building complete turbo systems, air-to-air and air-to-water intercooler systems, aluminum exhausts and mufflers, re-plenums, and custom shaping of body components. We can also provide innovative controls and displays for your custom electronic needs or sonic dreams.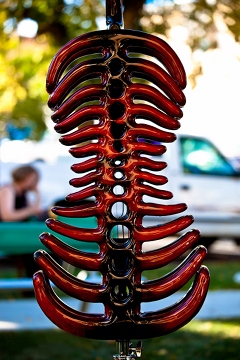 Beyond the automotive world, we design and build fantastical musical instruments and sculptures, from ordinary to extraordinary, such as this (in)famous electric cello, the "Cellotaur". We can also create the necessary flight-cases to protect your precious cargo.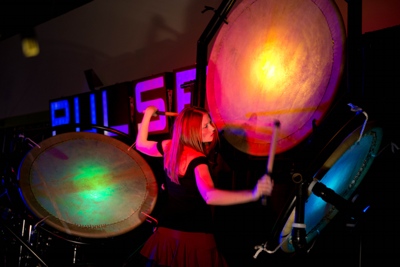 Canada's largest drums, the Global Drums, were designed, fabricated, stretched and sewn in-house here at CyKlops. With an aluminum frame-in-frame design, they are adjustable for tilt and height, and each drum comes complete with its own accessory bar (for mounting lights and mics) that moves with the drum, so it always looks and sounds the way it should. *Female drummer not included*
See the Creations section for all of our products and services. Mediums include metal, wood, plastics and fiberglass, and can be combined for different strengths and effects.
The
CyKlops Blog
(some of our recent creations and customer interactions)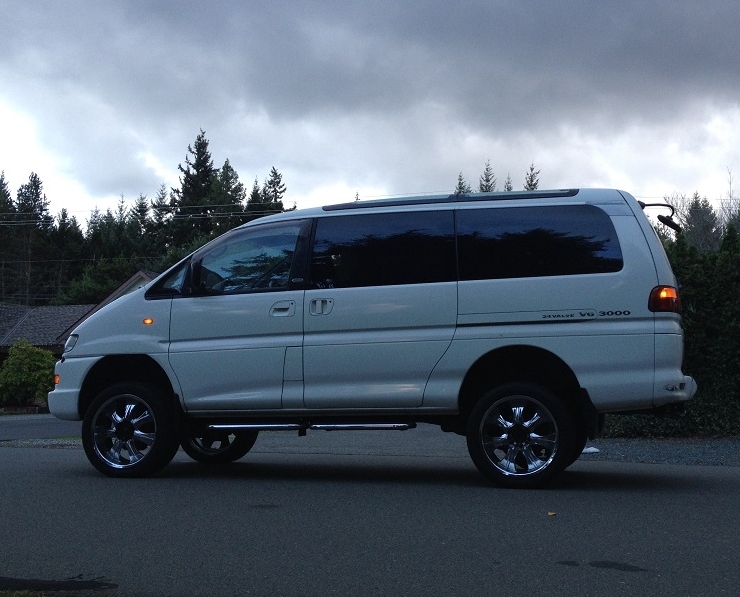 Done-up Delica
Vancouver Island sports one of the world's largest Mitsubishi Delica (RHD import) communities, and we could not think of a more fitting project to fulfill a need for a powerful cruiser/hauler/offroad vehicle. To refer to it as a "van" is pure injustice! We began by rescuing this 1998 L400 long wheelbase (LWB) 3.0L V6, which was in need of some frame-welding, brakes, suspension overhaul and provincial requirements. On went 20x8.5 VW 750 Velocity's (+30 0ffset), 255/45/20 Duelers, a 3.5" lift (2" spacers, rear HD springs, re-indexed torsion bars and longer shocks), adjustable panhard bar, dual exhaust and several other goodies. Driving it makes work fun! But there's more planned for this one in the future; a supercharger and subwoofers sit here waiting.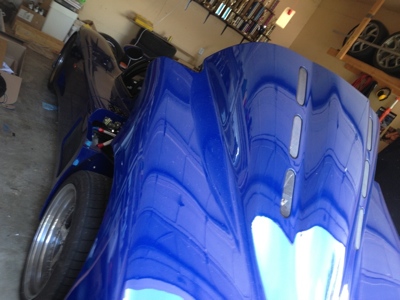 Ultimate Welding
It's not often that we get to see let alone work on one of the fastest cars on the planet, an Ultima! It popped by for a bit of welding and re-design of the accelerator pedal - we wonder how that got broken - and we took the opportunity for some pics and of course, a ride! This particular car was a stripped version weighing only 1300 lbs, and sporting a Chevy 450 whp V8.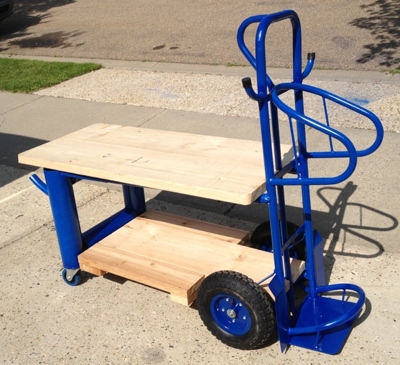 Which comes first, the welder or the Cart?
A customer asked for a welding cart that could support a large inert gas cylinder, and have some extra storage room, and so we came up with this: We combined the weight capacity of a heavy-duty hand-truck with a TIG-welded aluminum tubing frame, and built a pair of nice thick platforms for bolting into, and added some heavy-duty casters. Now THAT's a cart!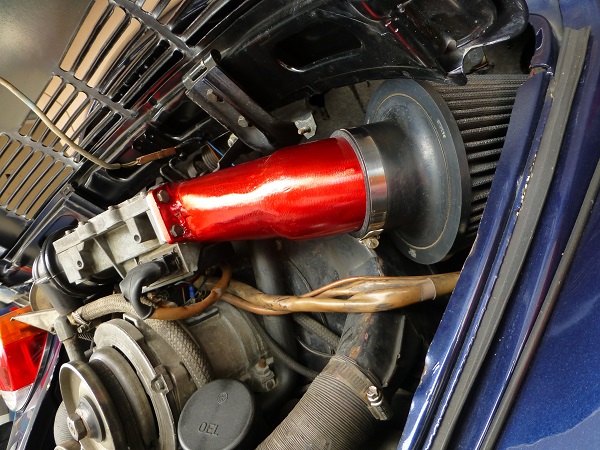 It's a... SuperBeetle!
This 1979 SuperBeetle popped by for a few custom bits... breathe-right bits to be exact... a used K&N filter and we TIG'd up a custom intake to transition from 3" into the small square air-flow meter (AFM) opening. Not too much room to accomplish that, but it tucks in perfectly.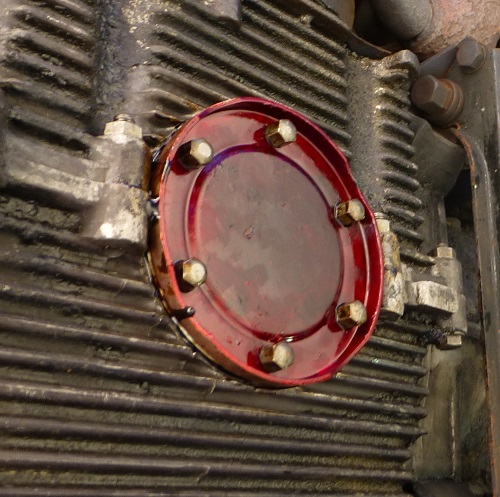 Then had a look at contributing factors to an oil leak issue... the oil "filter" on these cars is pretty much just a sieve, to catch big chunks of carbon etc... and they used unreliable gaskets for this filter setup. So we cut two 1/16th" teflon gaskets for it, changed the oil, bolted it back up and voila! Re-useable gaskets that will last forever. And no leaks!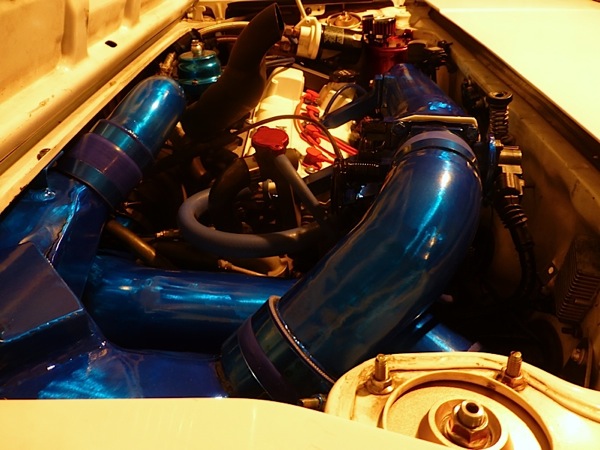 CyKlops was founded in 1993 by Martin Johann Kloppers, combining skills, tools, and materials from the automotive mechanical and autobody fields (largely centered around his 1988 MKI.5 Toyota MR2) to create electric musical instruments such as the famous Cellotaur.
Conversely, music electronics and software courses lended to control and display innovations in the automotive realm, such as utilizing sound analysis of the IGT signal to derive an ultra-responsive and accurate RPM signal on which to base the most comprehensive control of the TVIS system yet produced for the 3sgte. In combination with good application of flow priciples, this resulted in the record spooling of a GT3082/3040 turbo on a 2.0L 3sgte engine, producing 200RWTQ at a mere 3490 RPM.
Continued studies of forced induction systems, and a particular fascination with intercooling, eventually lead to the writing of the Ultimate A2W Tips and Tricks Guide, which combined a systematic application of the thermodynamic principles and fluid dynamics to separate the facts from the myths in an industry often dominated by false advertising.
The Global Drums, the largest drums in Canada, were completed and debuted in 2013, consisting of TIG-welded all-aluminum frames which included recycled truck driveshafts. This continued outside-the-box thinking earned a "Courage to Innovate" Award nomination (Edmonton, AB, 2013).
CyKlops now makes it's home on beautiful Vancouver Island, Canada.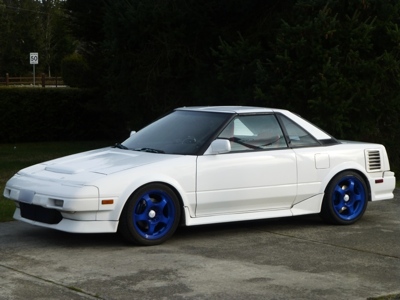 This website was designed and built by Martin Johann Kloppers.
If you are not a part of the MR2 community and you are here to view other CyKlops products and services, you might wonder what the email address "3sgte" means, or even the domain "mk15.ca"... they are both designations for the Toyota MR2. "3sgte" is the 2.0L turbo engine found in 1991-1995 Toyota MKII MR2 (the Japanese market utilized these engines into the late 1990's) and Celicas. The earlier 1985-1989 MKI MR2's were outfitted with 1.6L naturally aspirated (4age) or supercharged (4a-gze) engines, and when a 3sgte engine is swapped into the earlier MKI cars, it is referred to in the MR2 community as an "MKI.5"... considered by most to be the ultimate iteration of a customized MR2 due to it's power-to-weight ratio whilst retaining it's nimble handling.
Many designs, ideas and inovations in our history have their roots intertwined with this one car, a relationship going back nearly twenty years, influencing all aspects of CyKlops Custom Creations.
If you have suggestions for this site or are having problems viewing or operating any part of this site, we would love to hear from you. We have tried to make the site compatible with as many browsers as possible, as well as mobile devices, but occasionally something gets missed or browsers become outdated or platforms become unsupported.
We hope you enjoy the site and it's unique design.